Rigid Foam Insulation in Laval, Montréal, Brossard
Improve home comfort and efficiency with rigid foam insulation in your attic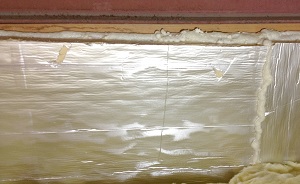 Rigid foam insulation provides a durable insulation option for areas where cellulose is not ideal.
Depending on what your attic's insulation needs are, you may need different insulation materials. Rigid foam insulation provides an alternative to blown cellulose in areas where cellulose isn't ideal for the job.
Systèmes Éconergie provides expert rigid foam insulation installation for a variety of purposes in the attic, and we can help you get the right solution for your home. If you're looking to improve your home's energy efficiency and comfort with attic insulation, call us today for a free estimate! We offer all our insulation services in Laval, Montréal, Brossard and nearby QC.
The benefits of rigid foam insulation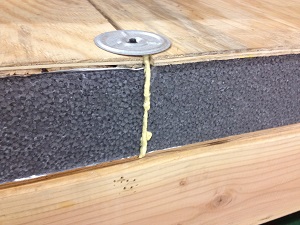 Rigid foam and air sealing fill gaps in your attic structure.
Rigid foam insulation comes in panels that can be cut to size. Rigid foam provides excellent durability and water resistance, allowing it to be used in areas where cellulose insulation isn't the right fit. Some of the areas where use rigid foam insulation include:
Multi-level attics
Attic super decks
Attic catwalks
Attic walls
Foamax® rigid foam insulation provides a complete attic insulation solution
At Systèmes Éconergie, we use Foamax® rigid foam insulation to upgrade your attic insulation. Foamax® is a polyiso rigid foam that comes with a reflective foil on the back to provide a radiant barrier. Polyiso rigid foam has the highest R-value of any rigid foam insulation.
Once installed, Foamax® serves to prevent heat transfer between the attic and living space, helping to improve your home's energy efficiency and comfort. Rigid foam insulation is usually also installed with air sealing upgrades for maximum effectiveness and results. We can evaluate your attic and recommend the best solution for your needs.
Upgrade your attic with rigid foam insulation today
If you're looking to improve your home's comfort and energy efficiency, rigid foam insulation from Systèmes Éconergie is the solution you need. Our complete attic insulation solutions are designed to solve all types of energy problems in attics, helping you save money on your heating and cooling bills.
Call Systèmes Éconergie today at 1-844-766-8322 or contact us online to get started with a free estimate on rigid foam insulation for your home. We offer all our insulation and air sealing services in Laval, Montréal, Brossard, Longueuil, Terrebonne, Repentigny, Saint-Jean-sur-Richelieu, Kahnawake, Saint-Edouard-de-Napierville, Saint-Isidore-de-Laprairie and the nearby areas.
Looking for a price? Get a no cost, no obligation free estimate.